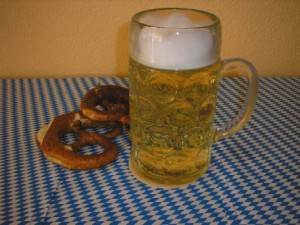 .
Ingredients:
Beer
clear Lemon flavored carbonated Soft Drink like 7up
Directions and History:
Any Lager or even light Beer will do.
Original Bavarian recipe calls for a 50/50 beer and soft drink mix.
Ratio can be changed to your taste preference.
Great long drink for the summertime.
Served in beer gardens in Bavaria for over 100 years.
Radler Maβ: Goes back to the bicycle clubs in the second half of the 19th Century, hence the first part of the name meaning bicycle rider.
A Maβ in Bavaria is a stein with the volume of 1 liter.
According to the German Historian Bauer: A Radler was enjoyed by the "bikers" once they reached their mid destination, a beer garden.  The "bikers" did not want to consume a soft drink, but if they would have had real beer, they would never have found their way home.