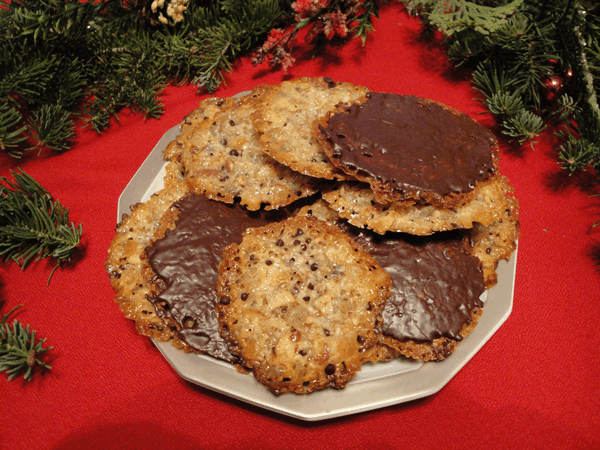 Ingredients:
200 ml    Heavy Cream
    50 g    Unsalted Butter
  200 g    Sugar
  100 g    Sliced Almonds
  100 g    Ground Almonds
  100 g    Candied Lemon Peel
  100 g    Candied Orange Peel
    50 g    Flour
    8 oz    Semi-sweet Chocolate, for the glaze
Directions:
Coarsely chop the sliced almonds. The candied lemon and orange peel come diced but need to be chopped finer. Spraying your chopping knife with a little Pam will make this much easier. In a mixing bowl combine the nuts, flour and candied peels together. In a medium sauce pan heat the cream, butter and sugar, stirring frequently, until the mixture is hot and the sugar has dissolved.
Add the hot cream sauce to the almond mixture and stir together thoroughly.  Cool the batter for 10 -15 minutes.
Line a cookie sheet with parchment paper.
Use one rounded teaspoon of batter per cookie, place on parchment paper, leaving about 4 inches between each cookie as they will spread.
Bake at 350°F until cookies are golden brown, for about 20 minutes. Allow to cool slightly and then transfer to a rack to cool completely.
Melt the chocolate in a double boiler.
Spread bottoms of the cookies with chocolate and place on wax paper (chocolate side up) until the chocolate sets.
Store in an airtight container layer with wax paper.
Optional: after the chocolate has hardened on the bottom, chocolate can also be drizzled decoratively on the top.
Makes 3 dozen