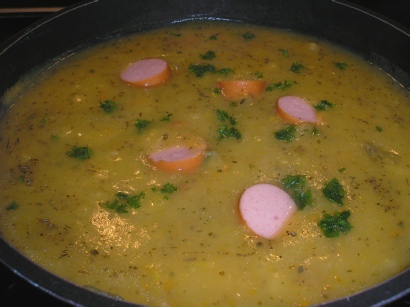 Ingredients:
   3 lbs    Potatoes
        2    Carrots
   4 oz    Celery
        2    small Onions
        1    small Leek
  1 Tbs    whole Marjoram
  1 tsp    whole Thyme
6 cups    Vegetable Broth
  1 Tbs    Vegetable Oil
  2 Tbs    Heavy Cream (optional)
              Salt and Pepper to taste
   1 lbs    Smoked Sausage (like Knackwurst, Frankfurters or Kielbasa)
              Parsley to Garnish
Directions:
Wash and peel vegetables. Dice potatoes and 1 onion and slice all other vegetables.
Transfer to a stockpot and add the marjoram and thyme.
Cover with broth and simmer for about 20 minutes (fork test the potatoes).
Puree with an Immersion Blender and season with salt and pepper to taste.
Slice the Sausage, dice the other onion and, using the oil, saute in a pan until onions are glassy.
Fold into the hot soup and sprinkle with chopped parsley before serving.
We use a Braun Immersion Blender,
which is not available in the USA anymore (120V).