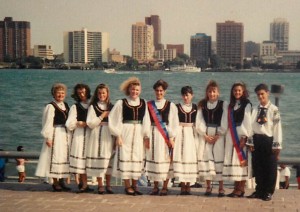 This recipe is from the Siebenbürger Sachsen Club in Detroit, Michigan
Ingredients:
11 lbs    Pork Shoulder Butts boned and trimmed
  83 g    Salt
    7 g    White Pepper
    7 g    Hungarian Paprika
 7.2 g    Garlic Powder
If you like the taste of garlic, you can increase the garlic powder to 10 g or to satisfy your own taste.
Directions:
Grind meat through the fine plate one time. Dissolve seasoning in some ice water and pour over meat. Mix thoroughly.
Stuff into 32/35 mm Hog Casing and leave in long rings or link to your preference.
To serve, precook in water and brown on all sides in a pan with some butter or BBQ.