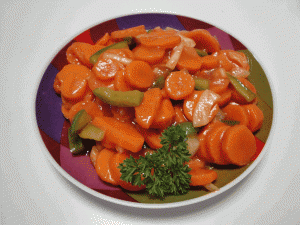 Ingredients:
  3 lbs    Carrots cleaned & sliced
       1    Onion quartered & sliced
½ cup    Green Pepper in strips
 1 can    Tomato Soup, condensed
½ cup    Cider Vinegar
½ cup    Sugar
½ cup    Salad Oil
             Salt
             Pepper
Directions:
Cook the carrots until just tender, drain and rinse in cold water.
Combine carrots with raw onion and peppers into a bowl.
Mix vinegar, sugar, oil and tomato soup in a pot.
Bring to a boil and cook until sugar is dissolved.
Pour hot mixture over the vegetables.
Chill overnight before serving.