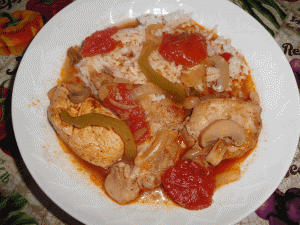 Ingredients:  
      2 lbs    Boneless Chicken Breasts and Thighs
   1 large    Onion sliced thin
     1 can    Sliced Stewed Tomatoes (15 oz)
  1 clove    Garlic minced
           1    Green Pepper cut in strips
     1 can    Mushrooms
2-3 cups    Chicken Broth
    ½ cup    White Wine
                 Salt & Pepper
                 Oil for frying
Ditrections:
Lightly season chicken pieces with salt and pepper then brown in oil on all sides.
Remove from pan and set aside.
In the same frying pan saute onions, peppers, mushrooms and garlic until lightly browned.
Return meat to pan, add tomatoes and chicken broth, cover and simmer about 45 minutes.
Add wine and simmer briefly.
Serve with rice.
Can be thickened with cornstarch if desired.
Canned tomatoes with basil and oregano can also be used to add a different flavor.
Sour cream can also be added as a variation.