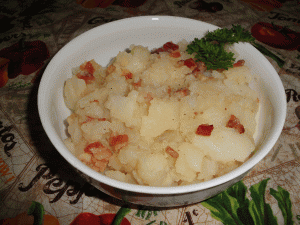 Ingredients:
  4 lbs    cooked & peeled Potatoes
   ½ lb    Bacon
½ cup    Water
½ cup    Vegetable Oil
½ cup    White Vinegar
  3 tsp    rounded Instant Beef Bouillon
  3 tsp    Sugar
¾ cup    Onion diced
             Black Pepper
Directions:
Quarter and slice the potatoes into a bowl, season with pepper and set aside.
In sauce pan fry the bacon until crispy, add the water and vinegar and bring to a boil, add the sugar and bouillon, stir until they dissolve.
Add oil and onions return to a boil then turn down and simmer for about 3 minutes.
Pour hot over the sliced potatoes and mix thoroughly.
Serve warm or cold.