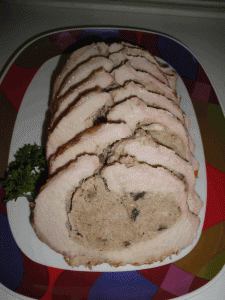 Ingredients:
   4 lbs    Pork Loin, boneless, center cut
Stuffing:
 2½ lbs    Pork, ground
         3    Eggs
  ¾ cup    Bread Crumbs, unseasoned
  ¼ cup    Dried Onions, minced or chopped
    2 tsp    Salt
   ¼ tsp    Garlic Powder
 1 pinch    Black Pepper
   1 cup    Water, cold
     ½ lb    Mushrooms, fresh
 Directions:
Cut the pork loin open as seen in Picture 1 below and set aside.
Clean and slice the mushrooms.
Place ground pork in a bowl, add the eggs and bread crumbs.
In a measuring cup combine salt, pepper, dried onions and garlic powder with the water and mix together.
Pour mixture over meat and knead well until it binds, fold in the mushrooms last.
Lay out the pork loin and spread the meat-mushroom mixture on top, keeping it to one side, see Picture 2 below.
Roll roast and secure with wooden skewers (Picture 3).
Place in roaster with fat side up, add some water to roaster to keep bottom of roast from burning and cover with aluminum foil.
Roast in oven at 350°F until internal temperature reaches 170ºF, check after 2 hours, uncover the last ½ hour to brown.
Picture 1
Picture 2
Picture 3
Picture 4