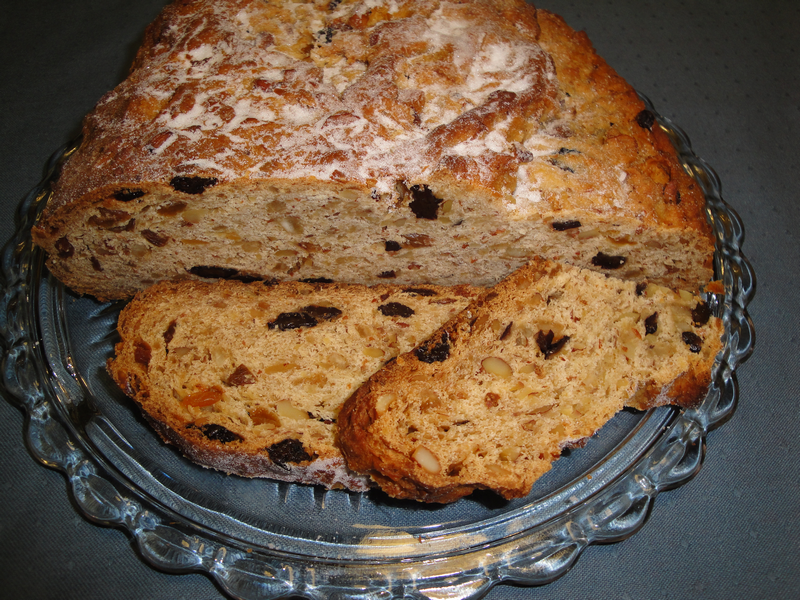 Please read "historical" note below.
Ingredients:
     250 g    White Raisins
       60 g    Dark Raisins
     280 g    Almonds
     200 g    Candied Lemon Peel
       30 g    Candied Orange Peel
       1 tsp    Lemon Zest
   4 drops    Rum Essence
                  Rum for soaking Raisins
      250 g    Unsalted Butter
      750 g    Flour
        40 g    Instant Dry Yeast
1 2/3 cup    Milk
        12 g    Vanilla Sugar
      155 g    Sugar
             1    Egg Yolk
             1    Egg
          7 g    Salt
Topping

Melted unsalted Butter
Bakers Sugar
Confectioners Sugar
Directions:
Day prior to baking:
In a bowl soak the raisins with rum essence and rum, stirring occasionally until ready to mix into the dough.
Medium-chop the almonds. The candied lemon and orange peel come diced but need to be chopped smaller. Spraying your chopping knife with a little Pam will make this much easier.
Combine the almonds, candies fruits and lemon zest, cover and set aside until needed, but do not refrigerate.
Morning of baking:
Melt and lightly brown the butter. Set aside to cool to room temperature.
Drain the raisins and add to the nuts and fruits.
All ingredients should be at room temperature unless indicated.
Add the flour to a large mixing bowl, making a well in the center.
Heat the milk to lukewarm.
Place yeast in a small bowl and add some milk to it, stirring until it is dissolved (it should form some bubbles,this means the yeast is active).
Pour the yeast into the well and add the rest of the milk, stir, drawing in a little of the flour, and add a sprinkling of sugar, this is called a sponge.
Cover with a clean kitchen towel.
Now it's time to proof the yeast.
It needs to be set in a warm place, or the oven can be used with some caution.
Heat the oven up to 100°F and then turn it off.
The oven temperature can not exceed 110°F as this could kill the yeast thus preventing it from rising.
Leaving the oven light on helps to keep the oven warm longer.
When the sponge has doubled in size, (approx. ½ -1 hour) it is time to mix the dough.
First knead the flour into the sponge, add the sugars, eggs and salt.
Knead the dough so that it is well blended, then add the fruit mixture and knead again until mixed through.
Now add the butter. It will seem kind of squashy but keep kneading until the dough binds together and becomes somewhat elastic.
Form into a ball, leave it in the bowl, cover with a towel.
Again place in a warm area or use the oven method.
Remember, if it's not warm enough the dough will not rise and if it's to warm it will kill the yeast.
Allow to rise until the dough doubles in size.
This could take hours, depending on the temperature in the area where the dough is placed.
After the dough has risen and doubled in size, punch it down and divided in two portions, each will be one stollen.
Line two cookie sheets with parchment paper.
Roll out each dough into a rectangular shape about one inch thick.
Fold over so that the edge comes to about 2 inches from the outside edge.
Cover and allow to rise again for for about 1½ to 2 hours.
Preheat oven to 300°F and bake each stollen for 1-1½ hours.
Can be covered with aluminum foil part way through if it is getting to dark.
When the stollen is removed from the oven brush the top with butter.
Allow to cool slightly, dust with fine bakers sugar and then with confectioners sugar.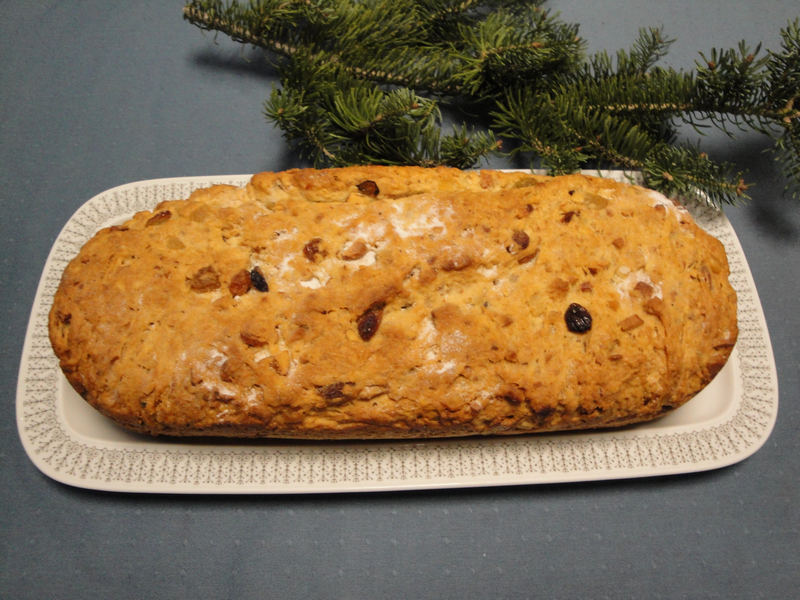 I mentioned before, that the whole thought behind Inge's Kitchen was to leave our mother's recipes to our future generations. We found my mother's hand written cookbook with some recipes that are over 80 years old. This cookbook is besides a journal of our family's culinary life, as she recorded the food served at many important family gatherings, like my sisters  and my confirmations and milestone birthdays and even what was baked at a couple of weddings, also a historical shopping list.
There were 14 different accounts of the yearly baking of these Christmas Stollen. The amazing part is that many of these recipes differed from year to year, especially during and after WWII. We could see from these ingredients lists what was available, what was in short supply and what was substituted for ingredients not available at all that year.
I found recipes in this book where honey was replaced by what they called "Artificial Honey" (Inverted Sugar) or Marzipan was made out of potatoes instead of almonds.
So the two Stollen recipes on Inge's Kitchen, as they only differ a little bit from each other are from the year 1954 and after, as it seems that at that point most ingredients were available again.
Artificial Honey: I am one of the early Baby Boomers, but growing up in Germany I still remember the glass jars with inverted sugar in it. Hard as a rock – you had to place them into warm water to get them "unthawed" to spread on bread.