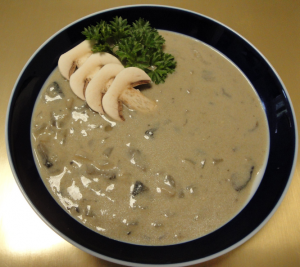 Ingredients:
      ¾ lb    Baby Portabello Mushrooms
          ½    finely diced Cooking Onion
  4½ tbs    Butter
  3½ tbs    Flour
 2/3 cup    Heavy Cream
     2 tbs    Sour Cream
          2     Egg Yolks
3½ cups    Beef Broth
     3 tbs    White Wine (optional)
                 Salt
                 Pepper
                 finely chopped Parsley
Directions:
Clean and thinly slice mushrooms.
In a pot melt the butter and saute the mushrooms and onions until lightly brown.
Sprinkle the flour onto the mushrooms and mix thoroughly.
Add the broth and simmer for 10-15 minutes then turn the heat down low.
In a bowl stir together the cream, sour cream, wine and egg yolks.
Slowly pour this mixture into the soup stirring constantly.
Allow the soup to heat through but not boil.
Add salt to taste at this point.
Pour the soup into serving bowls, sprinkle with fresh ground pepper and parsley and serve.
 Optional:  Some fresh made croutons (white bread cubes browned in butter) added just before serving.