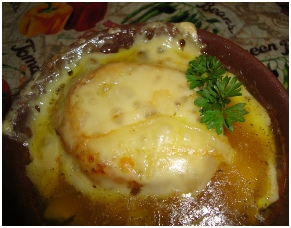 Ingredients:
        2 tbs    Butter
        2 tbs    Oil
     2 large    Spanish Onions
  6-7 cups    Beef Broth
      ⅛ tsp    Granulated Garlic
¼-½ cups    Red or White Wine
                   Pepper to taste
Topping:
5  Small slices of Baquette or French  Bread
5  Slices  Swiss Cheese
Directions:
Skin the onions.  Cut them in quarters and thinly slice.  In a large pot, heat the oil and butter, then add the onions.  Cook over medium heat until the onions are glassy and lightly browned, stirring occasionally.
Add the broth, garlic, wine and pepper to taste.  Simmer for 30 minutes.
Toast the bread.
Serve in oven proof individual bowls.
Fill the bowls ¾ of the way with soup, then the slice of bread and lay the cheese on top.
Bake under the broiler until the cheese is bubbly and slightly browned.
The bread keeps the cheese from sinking.
We like the flavor of Jarlsberg Swiss for the topping.