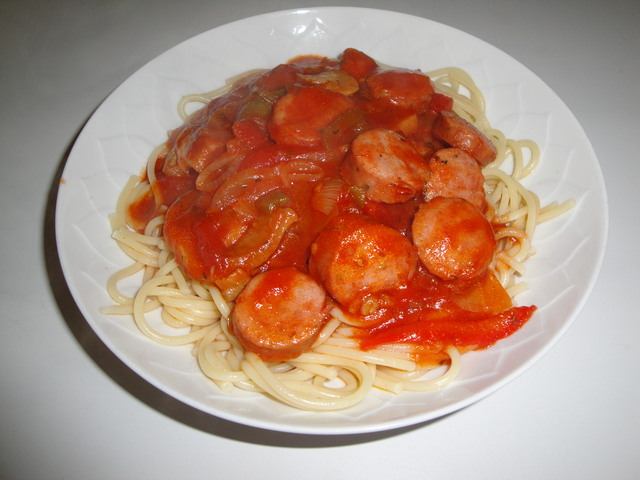 Ingredients:
      1 lb    Knackwurst or Smoked Polish Sausage*
   ¼ cup   Onions, diced
     8 oz   Mushrooms
   30 oz   Tomato Sauce**
4 cloves  Garlic, minced
    1 Tbs   Oil
               Basil, Oregano, Thyme, Black Pepper and Cayenne Pepper to taste.
Directions:
Cut the sausage into bite size slices.
Lightly brown sausage in oil.
Add the onions, garlic and mushrooms and continue browning until the onions are glassy.
Add the tomato sauce and season to taste.
Simmer for half an hour.
Serve with Spaghetti Noodles and Parmesan Cheese (optional).
*   Salami (diced) or other heavier smoked  Lunch Meats can also be used.
** For a chunkier sauce replace half of the Tomato Sauce with a can of Diced Tomatoes.