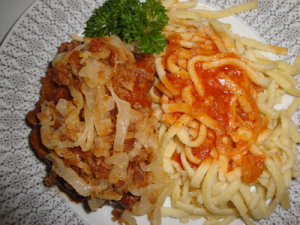 The ingredients of the Zwiebelrostbraten (Onion Steak) differ depending on the area the meal is served. Besides the basic ingredients some call for tomato paste others for paprika, mustard, white or red wine and some even add sugar to make it sweet. Some just top the meat with fried onions, others coat the onion rings with a flour/paprika mixture and deep fry them until they are crisp like onion-rings.
Ingredients (our version):
         2    New York Strip Steak or Ribeye Steak (¾ inch cut)
  16 oz    Onions, sliced thin
   1 can    Tomato Sauce 8 oz
  2 cups    Beef Broth
     5 oz    Flour
    1 tsp    Hungarian Paprika
 1 pinch    Garlic Powder
                Olive oil for frying
                Salt and Pepper to taste
Directions:
Combine the flour and paprika and mix well.
Season Steaks with garlic, salt and pepper to taste and trench in flour/paprika mixture.
In a frying pan sautee the onions in oil until golden brown. Set aside and keep warm. (For crunchy onions – coat onion rings with flour/paprika, shake off excess flour and deep fry until golden brown and crunchy).
Add a little more oil to pan and brown meat on both sides (about 3 minutes on each side). Remove and keep warm.
Add 1/3 of the onions to the pan together with beef broth and tomato sauce. Season with salt and pepper to taste.
Reduce to desired consistency.
Add meat with meat juices to pan and bring to a simmer. Do not overcook!
Arrange meat on plate, spoon some gravy on and top with the fried or deep fried onions.
Serve with fried Potatoes or in the Black-forest region you would serve Spaetzle with it.
Many recipes I saw tell you to pound the pieces of meat to make them more tender. If you start with quality USDA Choice Steak(s) this should not be necessary.