Schnitzel in Mushroom/Caper sauce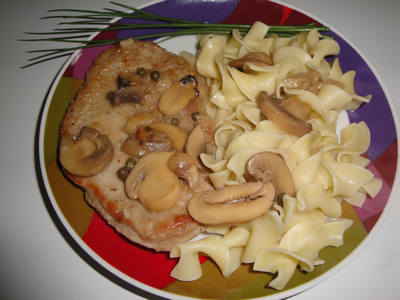 Ingredients:
     1 lb    Boneless Pork Cutlets cut 1/8 inch thick
  ½ cup    Flour
   1 cup    White Rhine Wine, not too dry
  ¾ cup    Chicken Broth
 1 clove    Garlic, finely chopped
   ½ tbs    Lemon Juice or more to taste
   1 cup    Portobello mushrooms
 1½ tbs    Capers
    3 tbs    Butter unsalted
    2 tbs    Vegetable Oil
                Salt and Pepper to taste
Directions:
Prepare all ingredients.
If pork is cut too thick you need to pound them.
Dredge pork in flour, flour can be salted and peppered to your taste.
Heat the oil in a large skillet and lightly brown pork cutlets on both sides adding half of the butter towards the end to get them nicely brown, remove and keep warm.
De-glaze the pan with wine and reduce to about half, add the broth, garlic, mushrooms, lemon juice and capers. Simmer till sauce thickens a little. Add the remaining butter then, once the butter has melted, add the pork cutlets and simmer a couple of minutes.
To thicken the sauce stir in some dissolved potato- or corn starch (optional).
Serve cutlets topped with sauce.
To round off this meal try our Potato/Mushroom Casserole with it.