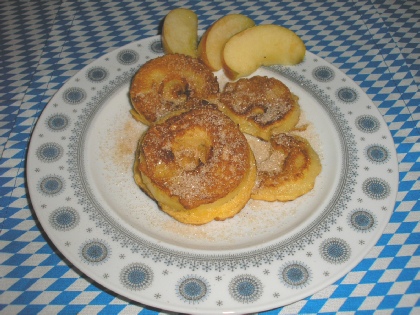 Ingredients:
        4    smaller cooking Apples
        2    Eggs
  4 Tbs    Flour
  4 Tbs    Milk
1 pinch    Salt
               Oil for frying
Directions:
Peel and core the apples.
Slice into ¼ inch thick rings.
Whisk together the egg, flour, milk and salt to make a batter.
Heat 1 tbs oil in a frying pan.
Pat the apple slices lightly with a paper towel before dipping them into the batter, the batter will stick better.
Dip the apple slices in the batter.
Fry the slices until golden brown on each side.
Serve hot, sprinkled with sugar and cinnamon or
Serve with Vanilla Ice Cream with the cinnamon and sugar sprinkled on it also (whipped cream is also tasty)