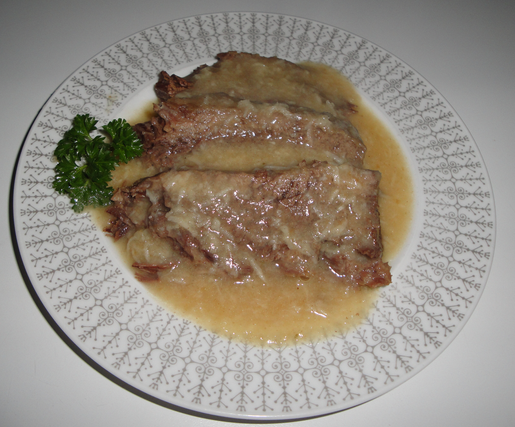 Ingredients:
Broth:

     3 lbs    Chuck Roast, boneless
2 stalks    Celery
          1    Leek
          2    Carrots
          1    Onion
12 cups    Water
6 cubes    Maggi Beef Bouillon or as needed
Roux:
     6 tbs    Butter
     5 tbs    Flour
Gravy:
          1    Hard roll
                Fresh horseradish
Directions:
Broth:  In a stock pot place all the ingredients listed except the beef bouillon and bring to boil.  After it has begun boiling add 3 beef bouillon.  Turn down to a gentle boil and cook for 2½ –3 hours.  Taste the broth to see if the flavor is strong enough, add more beef bouillon as needed.
Remove the meat and strain the broth.  
Roux:  Melt the butter in a small pan, add the flour stirring constantly until it reaches a dark golden color, set aside.
Gravy:  Clean, peel and grate the horseradish.
The finer it is grated the sharper the taste.
Soften the hard roll in some of the broth.  In a separate pot put as much broth for the gravy as you think you will need for one meal. Save the rest for soup or stock.
Press the hard roll through a sieve into the broth, keep pouring broth over it until it is dissolved.
Thicken the gravy with as much roux as needed to bring it to the consistency you prefer.
In the end add grated horseradish to taste. Start with 1 cup and add more if you like it hotter.
Bring it up to a boil then turn it off.
Serve the gravy with the meat and potato dumplings.