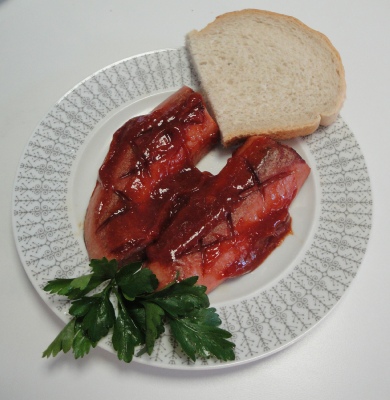 Ingredients:
            1    Ring Bologna

     ½

cup    Ketchup
      ¼ tsp    Paprika
      ¼ tsp    Curry Powder or to taste
                  Granulated garlic
 10 drops    Worcestershire sauce
        1tbs    Oil for frying
Directions:
Skin Ring Bologna and cut into 3 pieces.
To shorten cooking time cut pieces in half lengthwise and score top.
Fry pieces with the oil until warmed through, season with paprika, curry powder, garlic and Worcestershire sauce.
Pour the ketchup over it and warm through.
Serve with a hard roll or baguette.
See another variety below the pictures
​
In Germany a specially made sausage is used for it. The sausage is scored, steamed and cut into pieces.  Dusted with Paprika and Curry powder and topped with Ketchup.
This dish can be bought all over Germany in many Restaurants and at roadside stands and is a good example of German fast food.