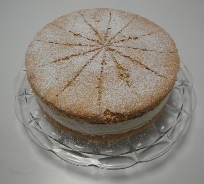 Ingredients:
Cake:
       4    Eggs
 130 g    Sugar
     9 g    Vanilla Sugar
 100 g    Flour
   50 g    Corn Starch
  2 tsp    Baking Powder
Filling:
         4    Egg Yolks
  200 g    Sugar
         1    Zest of whole Lemon
250 ml    Milk
    12 g    Unflavored Gelatine
     1 lb    Ricotta Cheese
 2 cups    Heavy Cream,whipped
1 pinch    Salt
              Confectioners Sugar for dusting
Directions:
Preheat oven to 350°F.
Line the bottom of a 10½ inch spring-form with parchment paper.
Sieve together flour, corn starch and add baking powder.
Beat eggs with sugar until light and fluffy.
Gently fold the flour into the egg mixture. Pour batter into the form and bake for 25-35 minutes.
Cool on a rack then cut in half to make two layers.
Place the bottom layer on a cake platter and surround with an adjustable cake collar.
Filling:
In a sauce pot combine egg yolks, sugar, salt, zest and milk. Heat through while stirring constantly. When it has thickened slightly add gelatin and stir until dissolved. Sieve this mixed into a bowl(to remove undissolved granules) and allow to cool somewhat. Stir in the cheese, mix and then fold in the whipped cream.
Pour this mixture onto the bottom layer then add the other cake layer onto the top and refrigerate overnight.
The next day remove the form, loosening the filling from the form with a knife.
Dust the top with confectioners sugar.
As a variation, you can add drained canned fruit on the bottom cake layer before adding the cheese mixture or follow our Käsesahnetorte with fruit recipe.
Scoring in the top cake layer makes it easier to cut the cake.