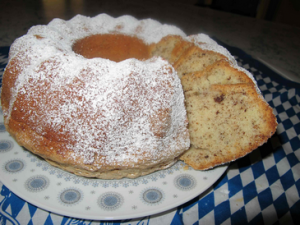 Ingredients:
  250 g     Confectioner's Sugar
         4     Eggs
100 ml     Vegetable Oil
  10 ml     Water
       ½     Lemon (Zest and Juice)
 250 g     Flour
      7g     Baking Powder
   30 g     Raisins
   30 g     Dark Chocolate, grated
   30 g     Almonds, finely chopped
Directions:
Separate eggs and whip egg whites together with 2 tbs lukewarm water until stiff peaks form.
Combine sugar and egg yolks and whip it until frothy. Blend in oil and water and add the lemon juice and zest.
Combine flour and baking powder, add to the mixture and stir it in.
Carefully fold in the egg white and afterwards mix in the chocolate, raisins and nuts.
Butter the inside of the Gugelhupf form and coat with unseasoned bread crumbs.
Transfer the dough into the form and bake at 350° F for about 45 minutes until it is light brown.
Flip the Gugelhupf out of the form, let cool and sprinkle with confectioner's sugar.