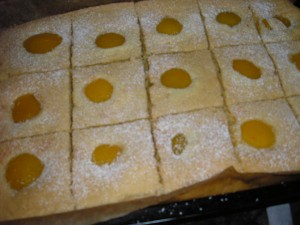 Ingredients:
200 g      Unsalted Butter
       3      Eggs
200 g      Sugar
    9 g      Vanilla Sugar
200 g      Flour
     7 g     Baking Powder
 1 can     Apricots halves (preferably peeled)
Directions:
Combine butter, eggs, sugar and vanilla sugar in a bowl and blend with hand mixer until frothy.
Mix flour with baking powder and carefully mix into the butter/sugar mixture.
Cover a jelly roll pan (15×10 inches/38×26 cm) with parchment paper. Spread the dough onto the paper and arrange the drained apricots on it.
Bake at 325°F in conventional oven, check after 30 minutes.
Let the cake cool, sprinkle with confectioners sugar and serve with whipped cream.
The juice from the apricots could be cooked with gelatin to pour over the apricots (after they are cooled down) as a glaze.