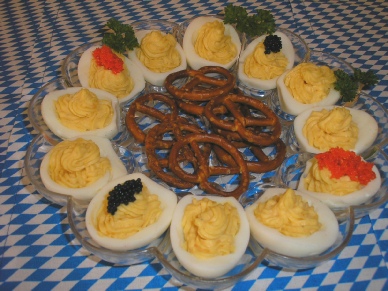 Ingredients:
         6    Eggs, Hard Boiled
   3 tbs    Mayonnaise
    1tsp    Medium Hot Mustard
               Salt to taste
1 pinch    Pepper
Directions:
When eggs are cold, peel and cut in half.
Remove yolks and place in a bowl.
Mash up yolks with a fork, add all other ingredients and mix thoroughly (add more mayonnaise if needed).
Fill egg cream into a frosting bag and pipe into egg white halves.
Decorate with caviar, chopped chives, green onions, bacon bits, salad shrimp, slivers of smoked salmon or just sprinkle with paprika.