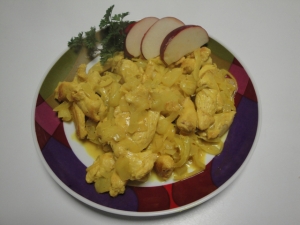 Ingredients:
 ¾ – 1 lb    Boneless Turkey or Chicken Breast Fillet
     1 tsp    Curry Powder
           1    Apple, tart about ¼ lb
     2 tsp    Lemon Juice
    150 g    Onion
           1    Leek
     2 tbs    Coconut Oil
     1 tsp    Turmeric
 1/4 cup    Vegetable Broth
 2/3 cup    Coconut Milk
                 Salt and Pepper to taste
Directions:
Cut meat into strips and season with salt and curry powder.
Peel, core and dice the apple and coat in lemon juice.
Peel and finely dice onion.
Cut off the top end of the leek and discard, wash the rest and cut into rings.
Heat the coconut oil in a frying pan and brown the meat until golden brown.
Add apple, onion, leek, curry powder and turmeric and cover with the broth and coconut milk.
Simmer for about 10 minutes.
Add salt and pepper to taste.
Serve with rice and/or pita bread