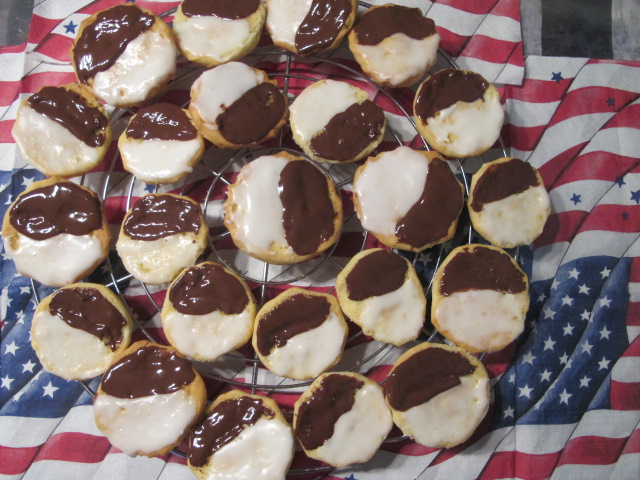 Ingredients:
  100 g    Butter,softened
  100 g    Sugar
      9 g    Vanilla Sugar
1 pinch    Salt
         2    Eggs, medium
  250 g    Flour
  1 pkg    Dr. Oetker Vanilla Pudding
    14 g    Baking Powder
   5 tbs    Milk
for the Glaze:
  100 g    Chocolate, semi sweet
  125 g    Confectioners Sugar
               Juice of ½ Lemon
Directions:
With a mixer, cream butter, sugar, vanilla sugar and salt until light and fluffy, add eggs and mix.
Combine flour, vanilla pudding and baking powder and slowly fold this and the milk into the butter/egg mix.
Cover 2 cookie sheets with parchment paper.Transfer dough into a decorating bag with a round hole and pipe the dough in circles on to the parchment paper about 2 inches apart.
Bake in preheated oven at 350ºF for about 12 minutes, until golden brown.
Carefully loosen cookies with a knife and transfer to a wire cooling rack and let cool.
Combine confectioners sugar with the lemon juice to make a thick paste and brush on half of the cookie.
Melt the chocolate (in double boiler or microwave) and cover the other half of the cookie with it.
Let it dry and enjoy.
We specified Dr. Oetker Pudding, as their pudding is unsweetened.