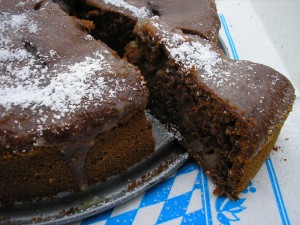 Ingredients:
4 large    Pears
   2 tbs    Lemon Juice
  200 g    Chocolate, semi sweet
  250 g    Unsalted Butter, softened
  150 g    Sugar
      9 g    Vanilla Sugar
         6    Eggs, medium
1 pinch    Salt
  400 g    Flour
    14 g    Baking Powder
150 ml    Milk
   5 tbs    Apricot Marmalade
              Confectioners Sugar for Dusting
Directions:
Peel and core pears and cut into small cubes. Coat with Lemon Juice to keep them from discoloring.
Coat a 10 inch spring form with butter and breadcrumbs.
Melt chocolate in double boiler.
Cream butter, sugar, and vanilla sugar until fluffy and add eggs one by one. Mix flour with baking powder and fold into butter/egg mixture. Slowly stir in the milk.
Then fold in the chocolate and pears.Transfer the dough to the spring form.
Bake in preheated oven at 350ºF for 50 – 60 minutes or until  a wooden toothpick inserted the center comes out clean.
Remove the cake from the form, brush with the warmed up apricot marmalade and dust with confectioners sugar.
Serve with vanilla ice cream and whipped cream.