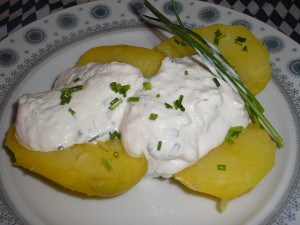 Looking around up scale grocery stores and specialty food stores, it seems like Quark can be found on a more regular base. Quark, which is a cross between Ricotta, farmers cheese, queso fresco and even cottage cheese is widely used in Germany in the traditional cheese cakes and tortes, but also as a side for potatoes or even as desert.
.
.
.Ingredients:
    500 g      Quark
  1 small      Onion, grated
     3 tbs      Mineral Water
     1 tsp      Salt
    ½ tsp      Pepper
   1 dash     Liquid Sweetener
 1-2 tbs      Chives
Directions:
In a medium bowl add all ingredients, except the chives, and stir until well blended. Chop the chives and fold in last.
Excellent with cooked Potatoes as a side dish or a meat free main dish.