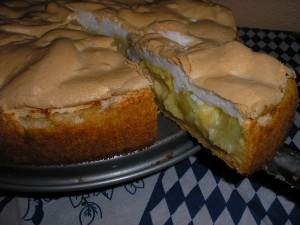 Ingredients:
  125 g    Unsalted Butter
         3    Egg Yolks
  125 g    Sugar
    14 g    Vanilla Sugar
  250 g    Flour
   2 tsp    Baking Powder
for the Filling:
  750 g    Rhubarb about 5 sticks
   2 tbs    Sugar
  1 pkg    Dr. Oetker Vanilla Pudding
300 ml    Milk
   2 tbs    Sugar
  100 g    Confectioners Sugar
         3    Egg Whites
Directions:
Wash and clean the rhubarb, cut into 1 inch pieces and coat with 2 tbs sugar.
Butter 22 cm (8½ inch) spring form and coat with bread crumbs.
Separate the eggs.
Combine butter, egg yolk, sugar and vanilla sugar and beat until frothy. Mix the flour with the baking powder and fold into the butter/sugar mix.
Transfer and spread dough into spring form.
Prepare the pudding following package directions, but use only 300 ml milk and 2 tbs sugar.
Let the rhubarb drain, fold them into the pudding and layer on top of the dough in the spring form.
Bake at 350ºF for about 20 minutes.
In meantime beat the egg whites with 2 tbs warm water and the confectioners sugar until stiff peaks form.
Remove the cake from the oven and distribute the egg white mix on top of the rhubarb.
Bake for another 25 minutes at the same temperature until the meringue is lightly brown.