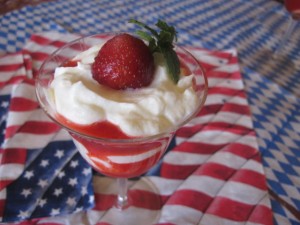 Recipe for about 8 dishes

Ingredients for the Mascarpone Creme:
  250 g    Mascarpone
  150 g    Sour Cream
   5 tbs    Sugar
   4 tbs    Lemon Juice – freshly squeezed
  200 g    Heavy Cream
Ingredients for the Strawberry puree:
  750 g    Strawberries, frozen
2-3 tbs    Sugar
To Garnish:
Whole Strawberries, Peppermint Leaves and Lady Fingers
Directions:
Combine Mascarpone, sour Cream, sugar and lemon juice and stir well.
Whip the heavy cream and fold into the cheese mix.
Put aside 8 nice Strawberries for garnish.
Unthaw the rest and puree together with the sugar.
Spoon in 2 tbs strawberries into glass dessert dishes, top with Mascarpone creme and repeat the process.
Garnish each glass with a strawberry and a mint leave and serve with a lady finger.