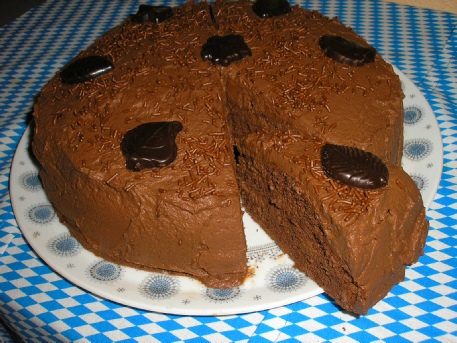 Ingredients:
Dough:
       6    Eggs, medium
200 g    Sugar
200 g    Flour
    7 g    Baking Powder
  3 tbs    Cocoa Powder
   14 g    Vanilla Sugar
for the Filling:
400 g    Chocolate, semi sweet
800 g    Heavy Cream
 60 ml    Amaretto
             Chocolate Sprinkles to decorate
Directions:
Dough:
Separate the eggs and beat the egg white with 2 tbs warm water until stiff peaks form. Sift the flour and add the baking powder and cocoa, mix until blended.
Combine egg yolks, sugar and vanilla sugar in a bowl and beat with hand mixer until frothy.
Fold in the egg white and then stir in flour mixture.
Prepare a spring form (26 – 28 cm ∅) with butter and coat with breadcrumbs.
Pour in the batter and bake in a preheated convection oven for about 25 minutes at 340°F. Let  cool.
Filling:
Break chocolate into small pieces. Bring 200 ml of the heavy cream to a boil, remove from heat, add chocolate and stir until it has melted, do not cook again. Add the Amaretto and set in a cold water bath, stirring until it has cooled down.
Transfer to a bowl and cool it down in the refrigerator.
Beat the rest of the heavy cream into whipped cream.
Beat the cold chocolate cream with a hand mixer until frothy and fold in the whipped cream.
Cut the cold cake twice horizontally to get three layers.
Assemble cake by spreading the chocolate cream in between the layers (about 2/3 of the cream).
Cover the tort with the rest of the cream and decorate with chocolate sprinkles.
Keep refrigerated.