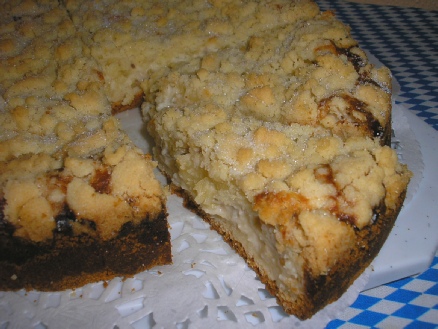 Ingredients:
   100 g    Ricotta Cheese
    4 tbs    Milk
   100 g    Sugar
   200 g    Flour
       7 g    Baking Powder
 1 pinch    Salt
    4 tbs    Vegetable Oil
for the Filling:
   400 g    Ricotta Cheese
     50 g    Unsalted Butter, softened
   150 g    Sugar
     14 g    Vanilla Sugar
          1    Egg
     50 g    Cornstarch
 1 glass    Gooseberries, drained (350 g)
for the Streusel:
   100 g    Unsalted Butter
   100 g    Sugar
   150 g    Flour
Directions:
Stir together cheese, milk and sugar. Combine flour and baking powder and mix into cheese with the salt, lastly add in the oil, blend together.
Prepare a 28 cm(11 inch) spring form with butter and coat with breadcrumbs.
Knead the dough one more time by hand and press into the bottom of the form.
For the filling; combine the cheese with the butter, stir in the sugar, vanilla sugar and egg, blend together and then mix in the cornstarch.
Fold the gooseberries into the cheese mixture and spread out over the dough in the spring form.
Knead together the butter, sugar and flour for the Streusel until it binds, then  crumble onto the top of the cake.
Bake in a preheated convection oven for about 50 – 60 minutes at 325°F until golden brown.
This cake is excellent if the filling is still slightly soft.
Remove cake from form and sprinkle with 50 – 100 g coarser sugar (to taste).
Serve with Whipped Cream.