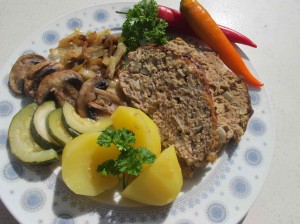 Ingredients:
      500 g    Ground Beef
             1    Hard Roll, day old or 2 slices of French Bread
             2    Eggs
    1 large    Onion
       1 tbs    Prepared Mustard
       1 tsp    Salt
      1 tsp    Pepper
for the Gravy:
   1  Liter    Beef Broth
     1  tbs    Prepared Mustard
     1  tbs    Flour
     1  tbs    Butter
                 Salt and Pepper to taste
Directions:
Soak the bread in water and squeeze the water out. Dice the onion.
In a bowl combine the meat, bread, eggs, onion, mustard; season with salt and pepper and knead together until it binds.
Shape the meat into a loaf form.
In a ovenproof pot heat the broth and stir in the mustard.
Place the meat into the broth and bake in oven at 350ºF for about an hour. Check meat temperature with a thermometer.
While baking baste with broth occasionally.
Prepare a roux with the butter and flour and blend into the sauce at the end. Bring to a short boil and season the gravy with salt and pepper to taste.
Serve with potatoes and mixed vegetables.