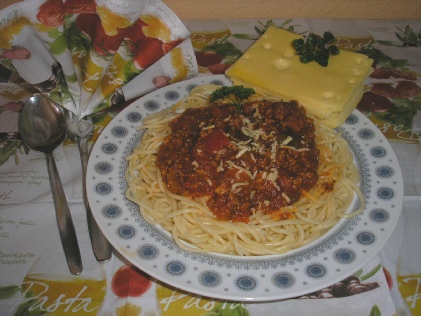 Ingredients:
    1¼ lb    Ground Meat
    1 cup    Onions, diced
3 cloves    Garlic
   2 cans    Tomato Sauce (15 oz)
    1 can    Crushed Tomatoes (15 oz)
  1 pinch    Red Pepper (Cayenne)
                 Basil, Oregano and Thyme to taste
Directions:
In a sauce pan brown the meat, add the onions and fry until glassy.
Finely chop the garlic and add to the pan.
Season with basil, oregano, thyme and red pepper. Pour in the 3 cans of tomatoes.
Bring to a boil.
Reduce heat, cover and simmer for 30 minutes.
Add water if needed.
Serve over spaghetti noodles with grated Parmesan and/or Romano cheese and garlic bread on the side.