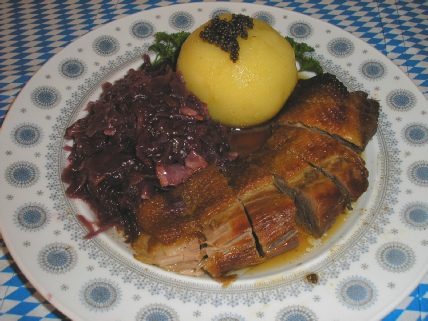 Ingredients:
10-12 lbs    Young Goose
    2 small    Onions
    2 small    Apples
                   Salt
                   Black Pepper
Directions:
Preheat oven to 400°F.
Rinse the goose and clean out cavity if needed.
Season with salt and pepper inside and out and place in a Dutch oven.
Insert the apples, onions and a few sprigs of mugwort into the cavity.
Add 3 to 4 cups of water to the pan with a few more sprigs of mugwort.
Roast for 35 minutes at 400°F then turn down to 350°F for the rest of the cooking time.
Baste frequently.
Add more boiled water as needed.
When the goose is done, remove from roaster and cut into portions.
Skim excess fat from gravy, add water if necessary and bring to a boil.
Total cooking time is approximately 4 hours.
Internal temperature should be 180°F.
Serve with sauerkraut or red cabbage, dumplings and lingonberries or cranberries.
We recommend: Do not discard the fat, but use it in cooking sauerkraut or even as a spread on rye bread with some salt. Mixed with some rendered pork fat (Lard) it will be more solid.