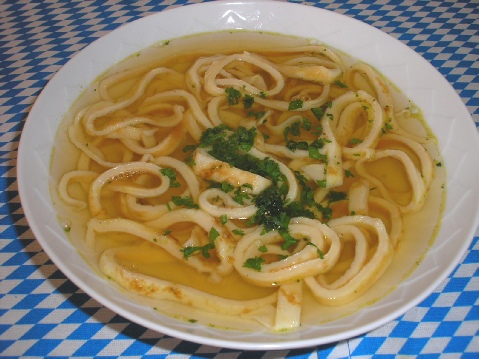 Ingredients:
 1 cup    Milk
 150 g    Flour
        1    Egg
 ½ tsp    Salt
              Oil for frying
5 cups    Soup Stock
Chopped fresh Parsley or Chives
Directions:
Whisk milk, flour, egg and salt together to form a smooth batter.
In a 9 inch non-stick frying pan heat one teaspoon of  oil, add one ladle of the batter (rotating pan until batter covers the bottom) and fry until golden brown on both sides.
Set aside and allow to cool.
Roll the crepes and slice ¼ inch thick.
Place a portion in a soup bowl and add hot broth.
Sprinkle with parsley or chives.
Yields 4 bowls of soup.
We linked to larger quantities
to get a more reasonable price!