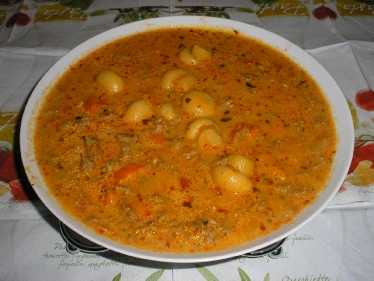 Ingedients:
     1½ lb    Ground Beef
      8 oz    Onion, diced
   1 stalk    Celery
      8 oz    Red Pepper
2 cloves    Garlic
     1 tbs    Tomato Paste
   2 cans    Diced Tomatoes (14½ oz each)
    1 pkg    Knorr Onion Soup
4¼ cups    Vegetable Broth
   2 cans    Mushrooms (4 oz each)
    10 oz    Cream Cheese
                 Vegetable Oil
      2 tsp    Italian Herbs
       1tsp    Sambal Oelek
                 Salt
                 Black Pepper
Directions:
Finely chop the onions, red peppers, celery and garlic.
Add some oil to a pot and saute onions, peppers, celery and garlic until lightly browned.
Stir in tomato paste and heat through and remove from pot.
Brown the ground meat in the pot and stir in the browned Vegetables.
Pour in the diced tomatoes and the broth and bring to a boil.
Strain the mushrooms.
Stir in the onion soup and the mushrooms.
Add the seasoning to taste.
Simmer for 15 – 20 minutes.
Stir in the cream cheese and add additional seasoning if necessary.