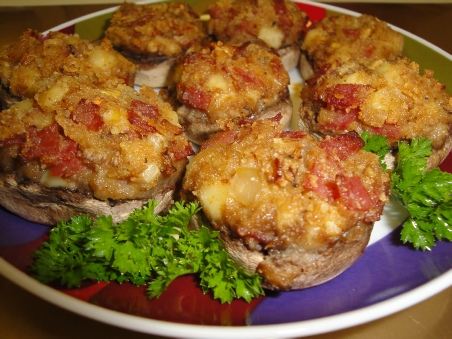 Ingredients:
12 large    Button Mushrooms
     1 tbs    Butter
 1/3 cup    Onions, minced
   ½ cup    Salami, finely diced
 1/3 cup   

Ritz or Town Club Crackers

    ⅛

tsp    Garlic, granulated
  1 pinch    Black Pepper
   1 dash    Cayenne Pepper
     4 tbs    Swiss Cheese, shredded
 1/3 cup    Chicken Broth
Directions:
Lightly grease a baking sheet.
Preheat oven to 325°F.
Clean mushrooms, remove stems and set aside caps.
Finely dice the stems and crush the crackers.
In a skillet melt the butter add the onions, salami, stems, seasoning and saute until the onions are tender.
To the onion mixture add the crackers, cheese and enough broth to bind the stuffing.
Allow mixture to cool to the touch.
Stuff the mushroom caps and arrange them on the prepared baking sheet.
Bake until the filling is hot and the mushrooms are cooked through, 25 to 35 minutes.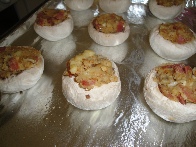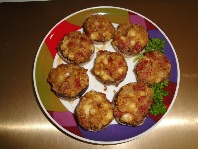 We pick up our spices, butcher and sausage supplies from Butcher and Packer Supply Company
as we like their freshness and quality.