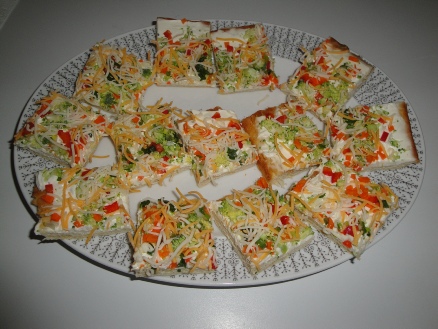 Ingredients:
2 pkgs    Refrigerated Crescent Rolls (8 oz each)
2 pkgs    Cream Cheese (8 oz each) soft
 ½ cup    Mayonnaise
 ¼ cup    Ranch Dressing
Toppings:
3-3½ cups mixed:
Broccoli, Green & Red Peppers, Green Onions, Black Olives, shredded Carrots, Tomatoes, Zucchini, Cauliflower
1 cup    Shredded Cheddar, Longhorn or Monterey Jack Cheese
Directions:
Preheat oven to 350°F.
Unroll crescent rolls unto a baking sheet and press the seams together  to form a single crust.
Bake for 12-15 minutes or until golden brown. Let cool.
Toppings:
Seed and chop tomatoes. Clean and finely dice any topping you choose to use.
Mix together cream cheese, mayonnaise and ranch dressing.
Spread mixture on top of the cooled crust.
Sprinkle with the vegetables and top with shredded cheese.
Refrigerate until ready to serve then cut into squares.