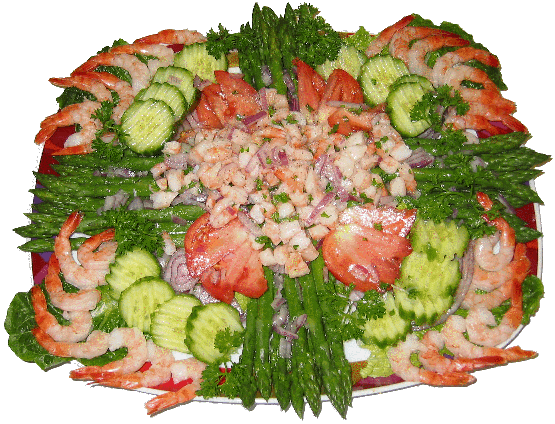 Ingredients:
      2 lbs    Asparagus
 60 large    cooked, peeled Shrimp
          ½    Red Onion diced
           1    English Cucumber
        2-3    Tomatoes
           4    Green onions
                 Leaf Lettuce to cover Platter
                 Fresh Parsley
Dressing:
 ¼ cup    White Wine Vinegar
 ½ cup    Oil
  2 tbs    Water
              Salt & Pepper
              Sugar
Directions:
Clean asparagus. In a pan bring water to boil, add the asparagus, bring to boil again and simmer for 4 minutes or until asparagus is still crisp but fork tender. Remove asparagus, rinse with cold water and refrigerate.
Dressing: Whisk together vinegar, water, salt, pepper and sweeten to taste then lastly whisk in the oil.
Clean and chop green onions, wash and cut  tomatoes in wedges, peel and cringle cut cucumbers.
Thaw shrimp and dice about half of them. Combine diced shrimp, red onions and some dressing.
Lay out cold asparagus on a bed of salads leaves, add cucumbers, tomato wedges and whole shrimp.
Cover center with shrimp salad sprinkle with green onions and drizzle some of the dressing all over.
Garnish with sprigs of Parsley.
Enjoy!