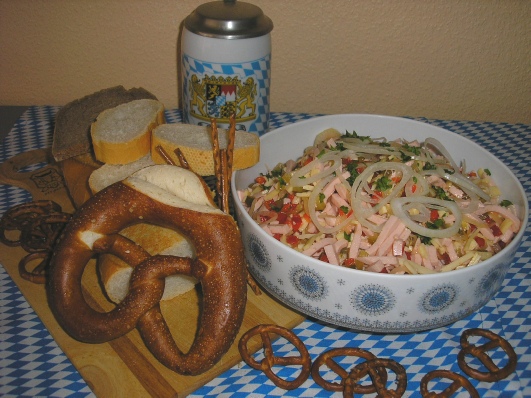 Ingredients:
600 g    Bologna
200 g    Swiss Cheese
200 g    Sweet-Sour Pickle
200 g    Red Pepper
150 g    Onion
 4 tbs    White Vinegar
 1 tbs    Water
 2 tbs    Vegetable Oil
 2 tbs    Sugar
            Salt & Black Pepper to taste
            Parsley
Directions:
Cut bologna and cheese into 2 inch long strips.
Dice pepper and pickles.
Thinly slice onion into rings.
Transfer all the above into a bowl.
In a small bowl combine vinegar, water, oil, sugar, salt and pepper, mix thoroughly.
Pour dressing over bologna and gently mix.
Garnish with chopped parsley.
Serve with a pretzel, hard roll or any hearty bread.