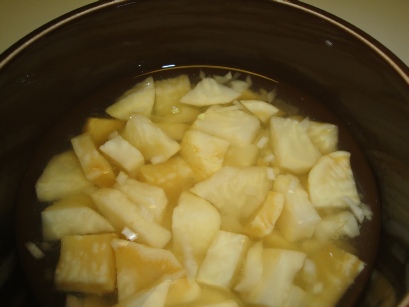 Ingredients:
    1½ lbs    Celery Root (Celeriac)

   2½ cup    Water
   3-5 tbs    White Wine Vinegar
                   Salt
 1-1½ tbs    Sugar
       1 tbs    Vegetable Oil
 ¼-¾ cup    Spanish Onion, diced
Directions:
Clean and peel root.  Cut into 6 or 8 section and then slice about ¼ inch thick.
Put into a pot with water and some salt and cook until fork tender (10-15 minutes).
Allow to cool somewhat.  
Pour some of the water into a bowl and add the vinegar, sugar and salt to taste, mix and then add the oil, onion and celery slices.
Chill before serving.