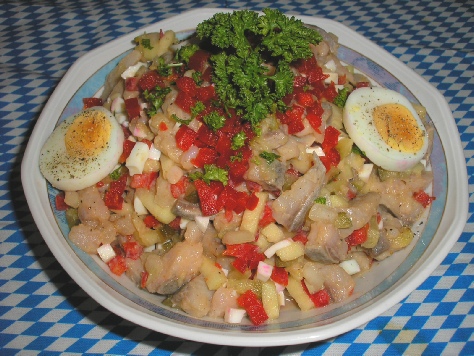 Ingredients:
  500 g    Matjesfilets
         2    Eggs, hard boiled
  100 g    Onions
  100 g    McIntosh Apple
1 small    Red Pepper
         1    Sweet-Sour Pickle
  ½ tsp    Black Pepper
   1 tbs    Herb Vinegar
   1 tsp    Sugar
               Parsley
Directions:
Matjesfilets is a lightly salted herring fillet which can be purchased in specialty stores.
Cut fillets into ½ inch pieces.
Core and peel apple.
Dice eggs, onions, apple, pepper and pickle, transfer into a bowl and carefully mix together.
In a small bowl mix together vinegar, sugar and 4 tbs water.
Pour the dressing over the herring, stir gently and marinate for 1-2 hours.
Garnish with parsley and serve on toasted bread.