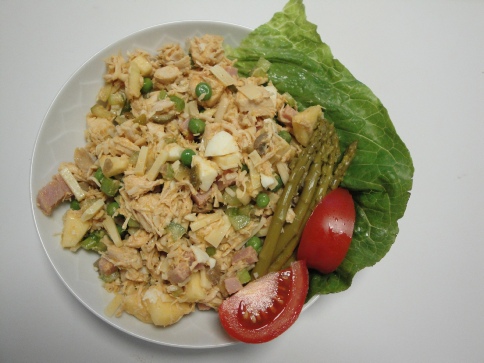 Ingredients:
     1 lb    Cooked boneless Chicken Breast
              Celery Root (optional)
        2    Eggs, hard boiled
   4 tbs    Slivered Almonds
       ½    Apple, diced
        1    Sweet-Sour Pickle
   4 oz    Cooked Ham
        3    Olives
   2 tbs    Asparagus
   4 tbs    Peas
   2 tbs    Mushrooms
    3 oz    Swiss Cheese
4-5 tbs    Lemon Juice
2½ tbs    Oil
              Salt
              Curry Powder
   Dash    Nutmeg & Hungarian Paprika
Directions:
Dice chicken and season with lemon juice, salt, curry, nutmeg and paprika to taste.
Dice the rest of the ingredients and mix together with the chicken.
Refrigerate for one hour. Taste to see if more seasoning is needed.
Finally add oil and toss.
Note:  Do not substitute celery root with stalk celery, just omit it.
Celery Root should be cleaned and prepared before use.