A Christmas Eve Tradition in our House.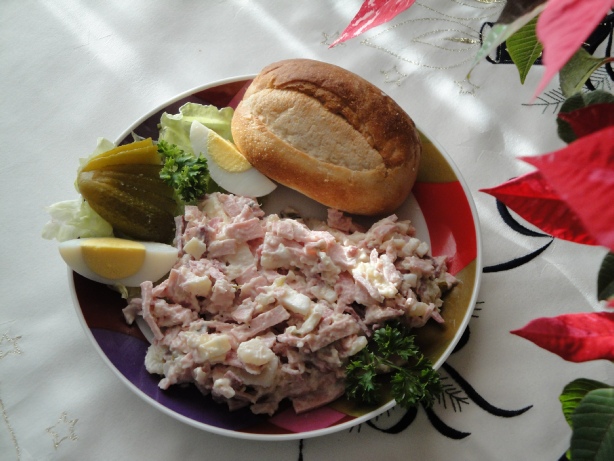 Ingredients:
  10 lbs    assorted sliced Lunch-meats including some Blood Sausage & Salami
    4 oz    Capers drained
    ½ lb    Swiss Cheese
1 large    Glass Bismarck Herring
1 large    Onion
3 large    Sweet-Sour Pickles
        7    Eggs, hard boiled
      14    Potatoes, medium size cooked
 ¾ cup    Pickle Juice (about)
              Mayonnaise
      12    Eggs , hard boiled for Garnish
Directions:
Cook whole potatoes until tender, peel and allow to cool.
Cut lunch meats and cheese into strips.
Dice the onions, pickles, eggs and herring.
Quarter and slice the potatoes.
Mix all the ingredients together adding as much mayo as needed.
Garnish with quartered eggs.
This salad was and is a Christmas Eve tradition in our house and has always been made in these quantities.