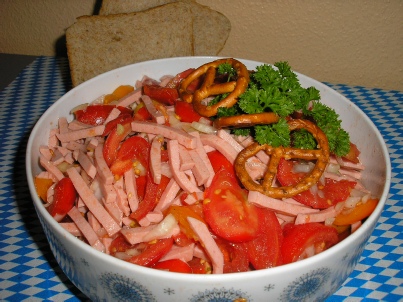 Ingredients:
        1 lb      Bologna, sliced medium
        1 lb      Tomatoes
            1      Medium Onion
Dressing:
      ¼ cup     Vinegar
       ½ cup    Water
        1 tbs     Sugar, optional
         1 tbs    Oil
                    Salt & Pepper to taste
Directions:
Cut the bologna into strips.
Trim and slice tomatoes to desired size.
Dice onion.
All the above ingredients are to taste.
Toss with dressing.
Dressing:
Whisk all the ingredients together.