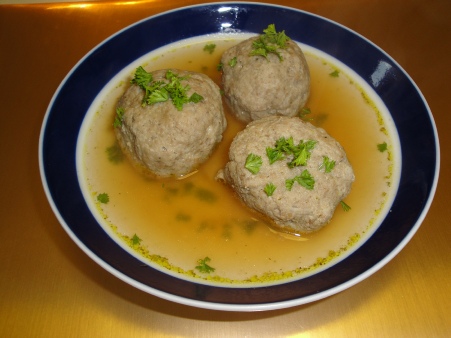 Ingredients:
   125 g    Beef Liver
     30 g    Bacon
          2    Hard Rolls, day old
                Milk
 1 small    Onion
          1    Egg
                Bread Crumps
                Salt, Black Pepper, Marjoram to taste
Directions:
Soak the rolls in milk until they are soft then squeeze out excess milk.
Grind together liver, bacon, onion and rolls.
In a bowl knead together the ground ingredients with seasoning, egg and enough bread crumbs to bind the mixture together.
Moisten your hands and form the dumplings.
Bring a pot of salted water to boil and place dumplings into boiling water. Simmer until cooked through, about 15-20 minutes, depending on the size.
Serve in a clear beef broth sprinkled with parsley.