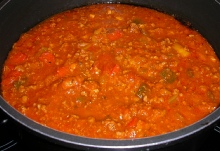 Ingredients:
   1½ lbs    Ground Beef
           2    Cooking Onions
 3 cloves    Garlic
           2     Peppers, Red and Yellow
  2 stalks    Celery
            1    Zucchini
            1    Carrot
      3 tbs    Olive Oil for frying
      1 tbs    Tomato Paste
     1 can    Tomato Sauce, 15 oz
     1 can    Diced Tomatoes, 15 oz
      3 tbs    Paprika Sauce or Ajvar (Hot or Mild to taste)
Seasoning to taste: Basil, Oregano, Thyme, Salt, Pepper, Chili Powder, Paprika, Red Pepper.
Directions:
Clean the onions and garlic, finely chop and set aside.
Clean and dice the vegetables and set aside.
In a Dutch oven brown the ground beef using oil if needed, then remove and set aside.
In the same pot saute the onions and garlic.
Add the tomato paste and heat through.
Add the rest of the diced vegetables and sauté briefly.
Add the beef, tomato sauce, diced tomato and paprika sauce. Season to taste.
Simmer for 1-1½  hours.
Serve over spaghetti noodles with Parmesan cheese.