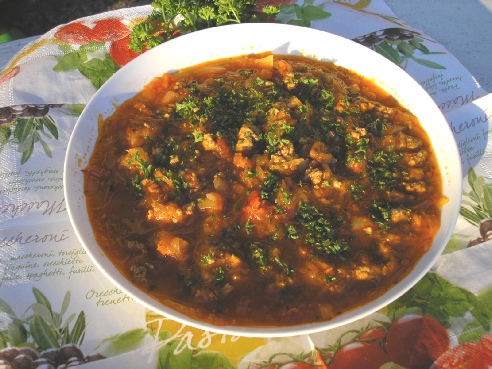 Ingredients: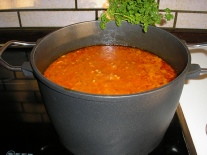 1 can    Sauerkraut (27 oz)
      ½ lb    Smoked Ham, diced
      ½ lb    Onions, diced
    1 can    Sliced Stewed Tomatoes (27 oz)
  1¾ lbs    Ground Beef
2 quarts    Vegetable Broth
     8 tbs    Vegetable Oil
     2 tbs    Paprika
     1 tsp    Ground Caraway
     1 tsp    Sambal Oelek
    ¼ tsp    Chili Powder
                 Salt, Pepper, Marjoram, Thyme and Sugar to taste
Directions:
Drain the sauerkraut and squeeze out excess juice, coarsely chop sauerkraut. Drain the tomatoes, reserving the juice and cut slices in half.
In a stock pot brown the ham and onions in some oil, remove and set aside.
In the same pot brown the ground meat next, also remove and set aside.
To the remaining oil add the sauerkraut and braise lightly.
Add the reserved tomato juice, ground meat, ham, onions and broth.
Season and add the tomatoes.
Simmer for 30-45 minutes.
Sprinkle with fresh chopped parsley before serving.  
Sambal Oelek, a chili based sauce or relish from Indonesia, added for some heat.
We also like to use it for a little heat in a home-made Bloody Mary