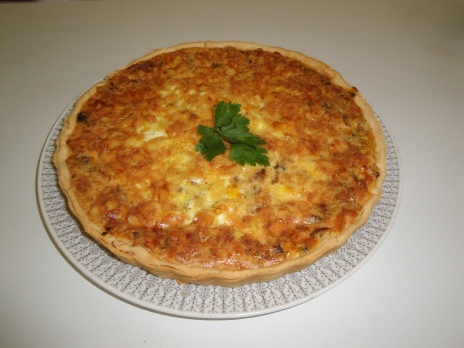 Ingredients: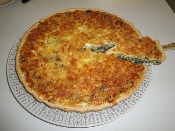 1    9 inch Refrigerated Pie Crust
   ½ lb    Mushrooms
¼ cup    Onions, diced
  2 tbs    Butter
 1 pkg    Frozen Chopped Spinach (10 oz)
¼ cup    Sour Cream
 ¼ tsp    Salt

 ⅛

tsp    Black Pepper
       4    Eggs
 1 cup    Half and Half

 ⅛

tsp    Salt

 ⅛

tsp    Black Pepper
¾ cup    Shredded Swiss Cheese
¼ cup    Grated Parmesan Cheese
Directions:
Thaw and drain the spinach.
Squeeze out excess water, spread out on cutting board and pat dry with a paper towel (that the crust will not be soggy) and chop.
Arrange pie crust in quiche pan.
Clean mushrooms,cut in half and slice.
In a skillet melt the butter over medium high heat and sauté the onion and mushrooms until golden brown, set aside.
Mix together spinach, sour cream, ¼ tsp salt and ⅛ tsp pepper. Spread onto the pie crust.
Layer mushrooms on top of spinach and sprinkle with Parmesan cheese.
Beat eggs with Half & Half, salt and pepper.
Pour egg mixture into quiche pan and top with Swiss cheese.
Bake at 375°F for 45 minutes until set and lightly browned.