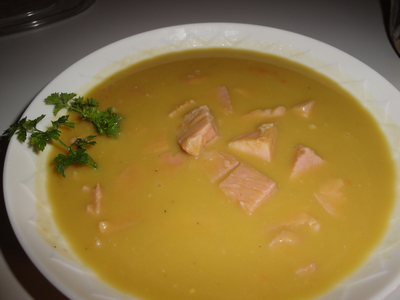 Ingredients:
       2 lbs    Smoked Ham in one piece
                  Ham Bone if available
         1 lb    Split Peas
     2 cups    Diced Potatoes
      ½ cup    Carrots
       1 cup    Diced Onions
             2    Bay Leaves
   2 cloves    Minced Garlic or Granulated Garlic
    10 cups    Water
 2-3 cubes    Vegetable Bouillon
      1 dash    Thyme
                    Pepper
                    Vegetable Oil
 Directions:
Saute onions with a little vegetable oil in a stock pot.
Sort and rinse peas.
Add all the ingredients to the stock pot except for the bouillon cubes.
Bring to a boil.
Then add 2 bouillon cubes, stir and cook at a simmer for about 1½ hours.
Taste the broth to see if it needs more bouillon, which depends on the type of ham, its strength of flavor and saltiness.
Add more bouillon if needed.
Discard the bone and bay leaves.
Remove the ham piece and cut into bite size pieces and set aside.
Puree the soup with an immersion blender.
Return the cut up pieces of ham to the soup.

Reheat if needed before serving.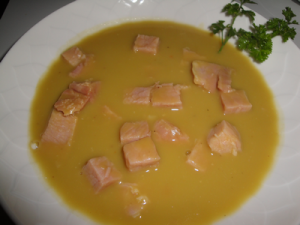 We use a Braun Immersion Blender,
which is not available in the USA anymore (120V).