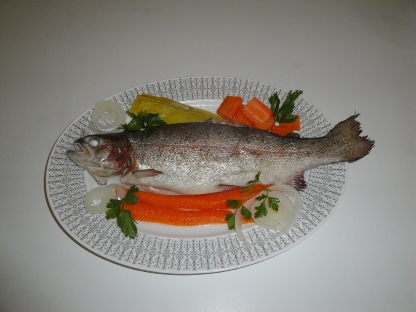 Ingredients: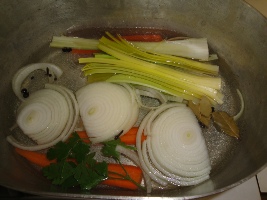 2    Trout, cleaned
          1    Onion
          1    Carrot
  1 stalk    Celery
          1    Leek
          1    Bay Leaf
          6    Peppercorns
          2    Cloves
                Salt to taste
          5    Juniper Berries
3 quarts    Water
 

2/3

cup    White Vinegar
      ¼ lb    Unsalted Butter
                 Lemon
 2 sprigs    Parsley
Directions:
Use a pot with an insert where the fish can be laid out flat.
Rinse the trout in cold water and lightly salt the inside.
Prepare the stock. Clean the vegetables. Slice the onions. Leek (light part only), celery and carrot can be cut in half. Pour the water in the pot, add the vegetables, spices and some salt. Simmer for 20 minutes.
Add the vinegar and return to a boil.
Place the trout on the insert into the stock.
When the stock returns to a boil turn down to a gentle boil and cook for 12 minutes.
When you can easily pull out the fin at the top of the fish, it is done.
Melt the butter and brown slightly.
Drain the trout and serve with browned butter and lemon juice.
Note: If fish is rinsed too thoroughly the skin will not turn the bluish color, but as many people eat the skin as part of the meal rinsing it more thoroughly improves the taste.