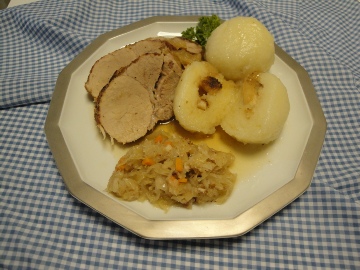 Ingredients:
     3 lbs    Pork Roast
  1 large    Onion
2 cloves    Garlic
                Salt
                Black Pepper
                Garlic Powder
     2 tbs    Oil
  4 cups    Water
Directions:
Slice onions and chop fresh garlic
Season roast with salt, pepper and garlic powder to taste.
In a roaster on top of the stove heat oil and brown roast on all sides, together with the onions, add chopped garlic towards the end.
Make sure that the roast and onions are a dark brown, but be careful not to burn it.
Add water, cover and slide in preheated oven.
Roast at 350˚F until internal temperature reaches 170˚F about 1½ – 2 hours.
Gravy can be strained thru a sieve or served as is.
Instead of leaving slicing to the last minute you can pull the roast at 150˚F, slice and layer slices back into the gravy, making sure meat is covered by liquid. Cover roaster, cook at previous temperature until done (about 30-40 minutes) then turn the oven down to 170˚F to keep the roast warm until ready to serve.
The picture below is an authentic Bavarian Dinner:
Pork Roast with Bread Dumplings and Sauerkraut.
A nice cool Lager or a glass of White Wine will round off this meal.